Hi Everyone!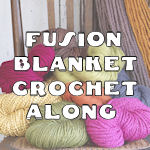 That's right...another crochet along for me. I just can't help it. I love both sewing and crocheting and when I stumble upon this crochet along at LMS immediately I jump in. I will use Ruby and California Girl fabrics from my stash for this project. This is some of my Ruby fabric which I have cut into 5" square for this project.
The first post about the Fusion Blanket Crochet Along will start tomorrow at
Little Miss Shabby
. If you're interested to join you are still not too late to get your supply. Head over to LMS to get the details.
Happy Sewing and Crocheting!!