Hi Everyone!!
Here I am again...to share with you the list of UFOs that I look forward to finish in February month...
1. First in the list is the Embroidery 101 quilt...I did not accomplish my goal to finish it in January so I'm putting it in again this month!
2. To finish piecing these blocks into a quilt top...
3. To piece these scrappy blocks from the Scrap Attack String quilt along that I joined in 2012. Currently I have finished 52 blocks and I need to have another 28 pieces to make a quilt in size of 44" x 55"
4. To finish this crochet granny bag
5. To finish sewing the bag which I've cut the fabric in 2010... in this picture it is the one at the background in blue color.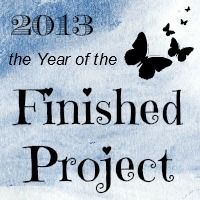 Happy Sewing!!