Hello Everyone!!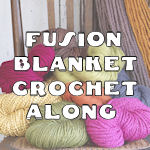 Today I am sharing my progress with my latest crochet along that I've participated. This crochet along is jointly hosted by Corey Cindy and Deborah
.
Basically I've finished sewing all the 80 pieces of the 5" squares. I used Ruby line with a mixture of California Girl fabric due to shortage of the Ruby stash.
Here are the squares ...one box of Ruby and another of California Girl.
Squares are all sewn and pressed.
Next step is to blanket stitch each and every pieces before I can start crocheting.
I use cotton thread for crocheting the edge. These are my finished squares so far. You may also visit flickr group to see what others are doing...
Happy crocheting!!