Hi Everyone!!
Barbara over at Cat Patches hosted this 2013 NewFO Challenge linky party.
This is my second year joining the fun. It is about getting started a New Project each month without to worry to finish it. Following are what on my NewFO wish list for the first two months in 2013 in no particular order…
I intend to join About A Quilt Sampler QAL : A sampler quilt with custom quilting hosted by Amira at
littlemushroomcap
This QAL is going to be all about how to do customize quilting. It will be about quilting by block using a domestic machine and the quilt as you go technique for each block.
The finished project will look like this…
Another project that I'm looking forward is to make a quilt for my son using this fabric bundle.
I still not decide on the pattern but these are some options that I'm looking at …time will tell
A zig zag or
a log cabin four patch pattern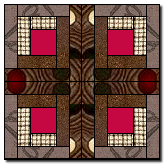 That's all I can list for today ...Some bloggers have more but I will keep my list short for now.
Visit
Cat Patches
to see what others are planning for 2013.
Happy Quilting!!